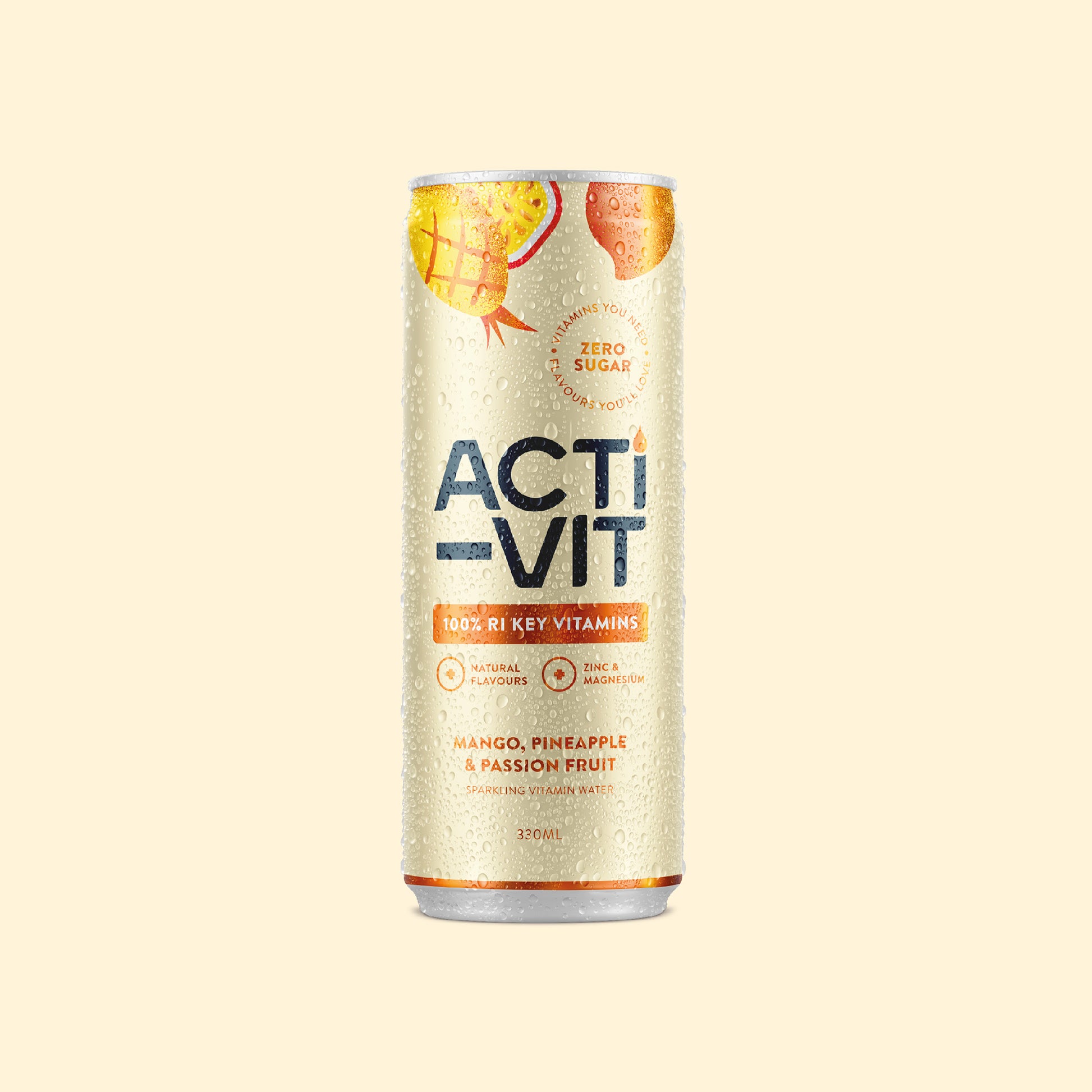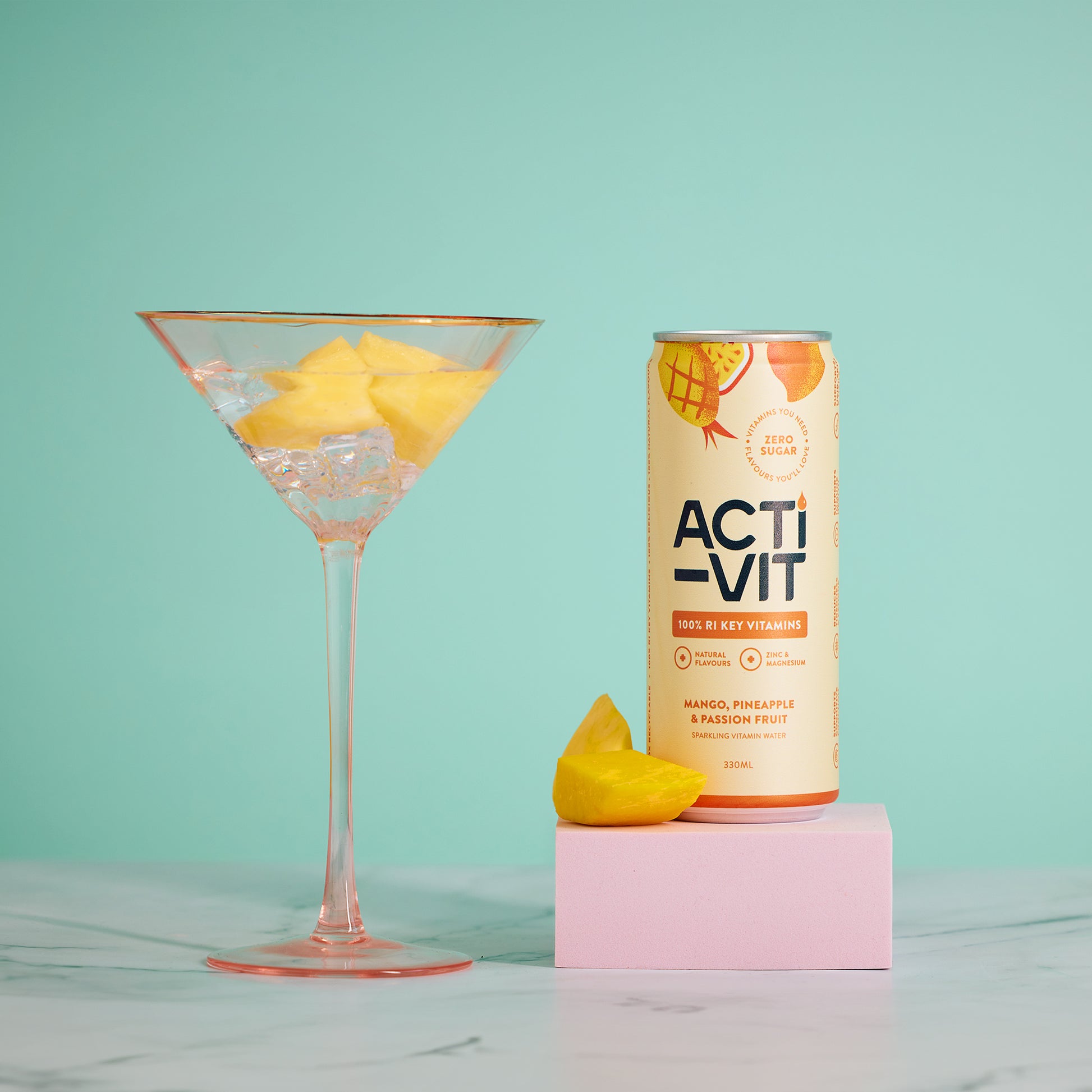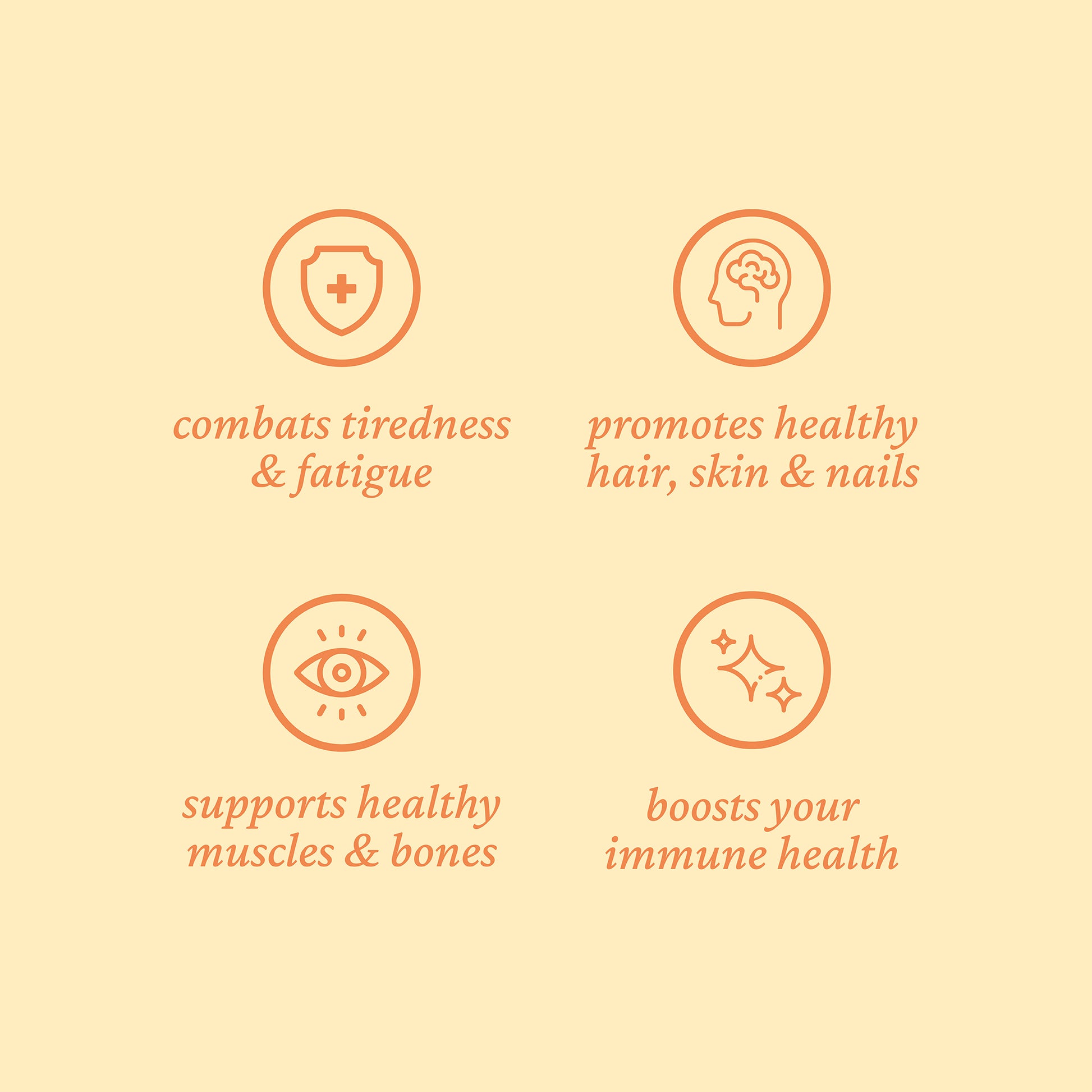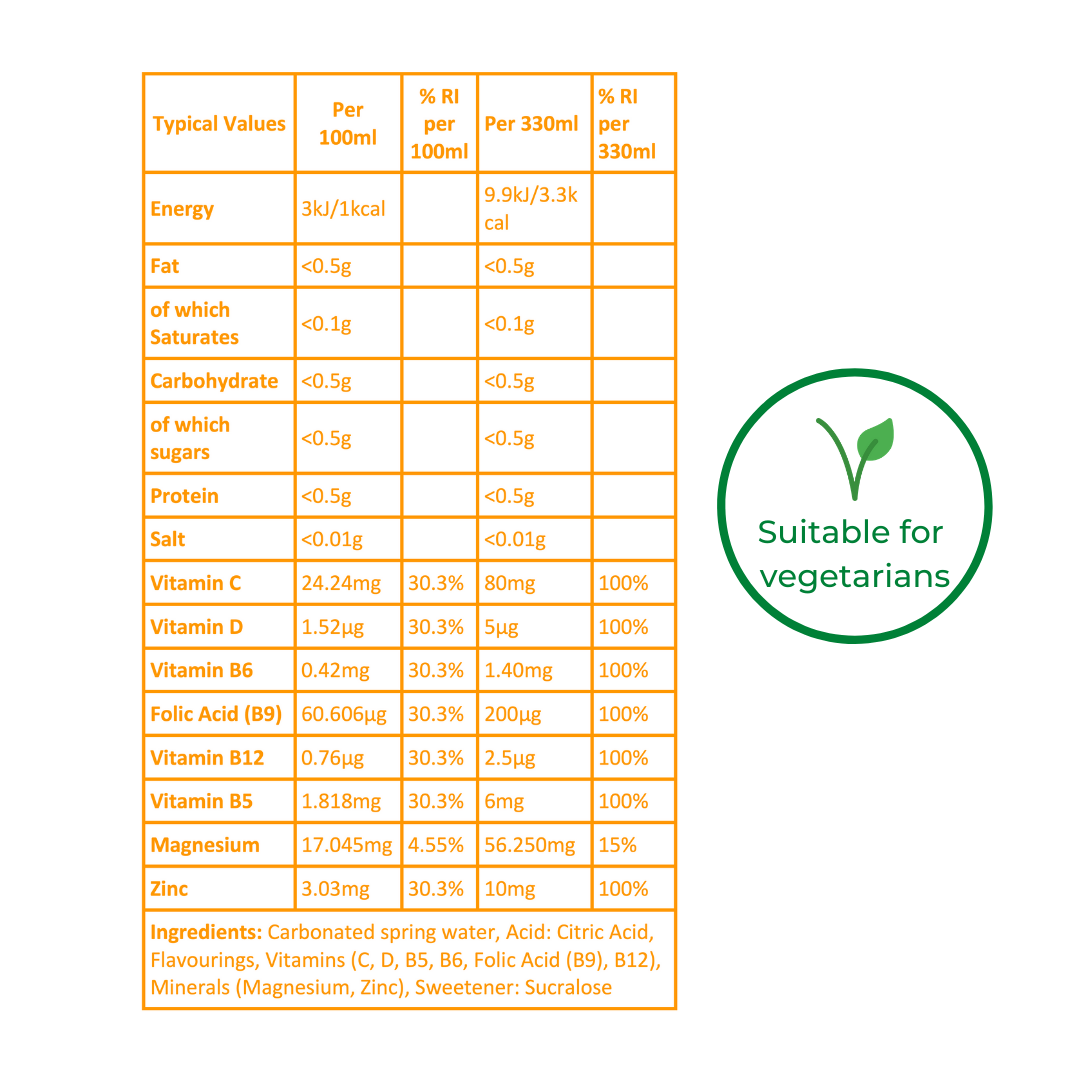 Acti-Vit Mango, Pineapple & Passion Fruit
Subscription Benefits
✓ 10% OFF all subscription orders
✓ FREE Delivery on all subscriptions
✓ Cancel or pause at any time
Acti-Vit is a gobsmackingly delicious sparkling, flavoured vitamin water, enriched with 8 key vitamins and minerals!

Every can contains 100% of your RDA of Vitamins B5, B6, B9, B12, C, D and Zinc, as well as a healthy splash (15% RDA) of Magnesium, helping to:

+ Reduce tiredness & fatigue
+ Maintain healthy hair, skin, nails, muscles bones and teeth
+ Support your immune system

No sugar, no caffeine and only 3 calories per can.
ActiPH Water is committed to becoming a climate positive business. As part of that commitment, for every plastic bottle sold in our online store, we fund the collection of 4 plastic bottles to ensure they never reach the ocean and are properly recycled, through our partnership with Plastic Bank.
We also plant a tree for every case sold, through our partnership with Ecologi. All our products are also 100% recyclable and BPA free.
UK Delivery Costs:
under £25.00 - £2.99 DPD Tracked Day Delivery
£25.00 or more - FREE DPD Tracked Delivery
We dispatch orders same day up till 2PM (Mon-Fri)
Delivery typically arrives 24 hours after dispatch
(excluding weekends), you can see the progress of your delivery by following your tracking notification you'll receive from our courier.
Im obsessed
I really love the flavour it's light and fruity I find these drinks very refreshing. I've tried the other flavours they have 3 in total this one being my 2nd favourite . Would buy again . Reasonably priced .
Love these drinks!
Easy to take to work and gives a boost of energy pre and post workout or just for a pick me up - flavour is great and the smell is veeerrry nice
Great taste
My son loves these and gets through 3-4 cans a day which is somewhat costly, worth it for him though!
Great for a hang-over with lack of sleep!
Love this drink and particularly the Blackcurrant, Apple, Raspberry flavour. Great if you need a boost in the morning!
Feel energised with this delicious sparkling tropical drink!
Looking for a drink to get you through the day without being packed full of caffeine and sugars? Love the taste of tropical drinks? Look no further than this ActiPH Vitamin water drink!
When it comes to canned drinks, flavour equates to the biggest reason for if I would buy it again or not. In this case, I would for sure! The tropical taste is well balanced and isn't overly sweet. It has a lovely natural flavour of pineapple and undertones of other tropical fruit which pairs marvellously!
As for valued, these are actually very well priced, working out to about £1 each when purchased in bulk. Every time I had one so far, I felt a gentle kick of energy and never experienced that dreaded crash after. As these are infused with vitamins this drink is actually good for you so no need to feel guilt for having one if you're on a diet, especially since there's 0 calories ;).
Overall, a 5 star drink, would recommend!
@actiphwater
Be part of our community